Charlotte Motor Speedway, formerly Lowe's Motor Speedway, is a motorsports complex located in Concord, North Carolina, United States 13 miles (21 km) from Charlotte, North Carolina. The complex features a 1.5 mile (2.4 km) quad oval track that hosts NASCAR racing including the prestigious Coca-Cola 600on Memorial Day weekend, the Sprint All-Star Race, and the Bank of America 500. The speedway was built in 1959 by Bruton Smith and is considered the home track for NASCAR with many race teams located in the Charlotte area. The track is owned and operated by Speedway Motorsports, Inc. (SMI) with Marcus G. Smith (son of Bruton Smith) as track president.
The 2,000 acres (810 ha) complex also features a state-of-the-art quarter mile (0.40 km) drag racing strip, ZMAX Dragway. It is the only all-concrete, four-lane drag strip in the United States and hosts NHRA events. Alongside the drag strip is a state-of-the-art clay oval that hosts dirt racing including the World of Outlaws finals among other popular racing events.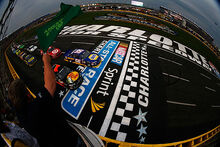 Ad blocker interference detected!
Wikia is a free-to-use site that makes money from advertising. We have a modified experience for viewers using ad blockers

Wikia is not accessible if you've made further modifications. Remove the custom ad blocker rule(s) and the page will load as expected.