Lionel Racing previously know as Lionel NASCAR Collectables is currently the official diecast brand of NASCAR. Lionel has been producing NASCAR diecast since 2011 replacing motorsports authentics. Most of the diecast made can be purchased at the track or online. Previously from 2012 to 2015 Lionel Racing had competition from Spinmaster who was producing NASCAR diecast exclusively at local retail stores.
Molds used
Edit
Sicne debuting in 2011 Lionel Racing has used 3 molds. The first and current one being used is the EL mold. The second one used was the WLS mold that was used in late 2013 to 2014. The third one used was the PTC mold that was used in late 2014 to 2015. As of 4/27/16 the ptc mold has made a return.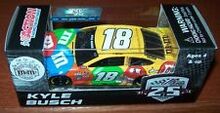 Lionel Racing has produced many different scales with the most popular one being 1/64 scale.