Phoenix International Raceway (PIR) is a 1.022 mile (1645m), low-banked tri-ovalrace track located in Avondale, Arizona. It is named after the nearby metropolitan area of Phoenix. The motorsport track opened in 1964 and currently hosts two NASCAR race weekends annually. PIR has also hosted the IndyCar Series, CART, USAC and the Rolex Sports Car Series. The raceway is currently owned and operated by International Speedway Corporation.
The raceway was originally constructed with a 2.5 miles (4.0 km) road course that ran on both the inside and the outside of the main tri-oval. In 1991 the track was reconfigured with the current 1.51 miles (2.43 km) interior layout. PIR has an estimated grandstand seating capacity of around 67,000. Lights were installed around the track in 2004 following the addition of a second annual NASCAR race weekend.
Phoenix International Raceway is home to two annual NASCAR race weekends, one of 13 facilities on the NASCAR schedule to host more than one race weekend a year.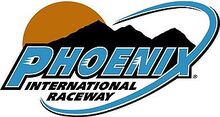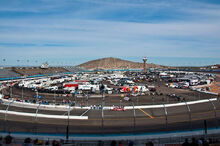 Ad blocker interference detected!
Wikia is a free-to-use site that makes money from advertising. We have a modified experience for viewers using ad blockers

Wikia is not accessible if you've made further modifications. Remove the custom ad blocker rule(s) and the page will load as expected.