Rockingham Speedway, formerly North Carolina Motor Speedway and later North Carolina Speedway is a closed racetrack (but still used for some events) located near Rockingham, North Carolina. It is affectionately known as "The Rock" and has hosted NASCAR Sprint Cup Series and Camping World Truck Series races, Automobile Racing Club of Americaand CARS Pro Cup Series. The final NASCAR Cup Series race at Rockingham was held on February 22, 2004 with Matt Kenseth winning the event.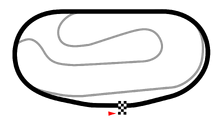 The track opened as a flat, one-mile ovalon October 31, 1965. In 1969, the track was extensively reconfigured to a high-banked, D-shaped oval just over one mile in length. In 1997, North Carolina Motor Speedway merged with PenskeMotorsports, and was renamed North Carolina Speedway. Shortly thereafter, the infield was reconfigured, and competition on the infield road course, mostly by the SCCA, was discontinued. Currently, the track is home to the Fast Track High Performance Driving School, The track has also been used often for television and movie filming.
Ad blocker interference detected!
Wikia is a free-to-use site that makes money from advertising. We have a modified experience for viewers using ad blockers

Wikia is not accessible if you've made further modifications. Remove the custom ad blocker rule(s) and the page will load as expected.